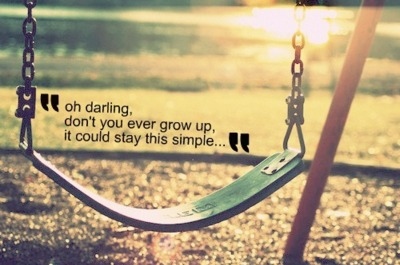 Your little hand's wrapped around my finger
And it's so quiet in the world tonight
Your little eyelids flutter cause you're dreaming
So I tuck you in, turn on your favorite night light
To you everything's funny, you got nothing to regret
I'd give all I have, honey
If you could stay like that
(Taylor Swift, Never Grow up)

Warm, soft touches. I held that little boy in my arms the other night. I have been babysitting him for a long while now. He is precious. As he fell asleep in his arms I understood for the first time what it must be like to be a mother. You want to do everything in the world you possibly can to protect your child. You want to keep him from everything and every moment. I cried a little as I looked at the tiny child, wanting only for him to keep his innocence forever. In a few years he would be scared of monsters under his bed, but I wish he wuld never know about monsters. One day someone is going to hurt him on the playground. Eventually he'll have some girl break his heart. If I only I could give that precious child innocence forever!
When I got home, I plopped down beside my mom on the couch and wept for a long while about it. Mom said she wishes she could have given me all the innocence too. She had those thoughts as she used to tuck me into bed. I cried. There used to be monsters under my bed, Kids hurt me in school, my heart was broken. My Mom could not stop me from grwoing up. I can't stop anyone as hard as I try but it's so hard.
 
Oh darling, don't you ever grow up
Don't you ever grow up, just stay this little
Oh darling, don't you ever grow up
Don't you ever grow up, it could stay this simple
I won't let nobody hurt you, won't let no one break your heart
And no one will desert you
Just try to never grow up, never grow up

That is my wish for every child I babysit. for every child I have cuddled, watched, and known. Every child in North Carolina. Every child that is on this earth.
I love each of you more than you could ever know. I want you guys to never ever ever grow up. To stay simple. I want to be along your side to tell you it's not worth it and I want to help you walk. I want to cuddle you every time ther is a monster under your bed and I want to always be the one to turn the night light on. But there is a little problem. I really don't think I have grown up at all.
I am still growing up and inside sometimes I still feel like I belong back at the playground with flowers in my hair. I don;t want to think about college, boys, jobs, life. I want to fly away to neverland with Peter Pan.
Take pictures in your mind of your childhood room
Memorize what it sounded like when your dad gets home
Remember the footsteps, remember the words said
And all your little brother's favorite songs
I just realized everything I have is someday gonna be gone